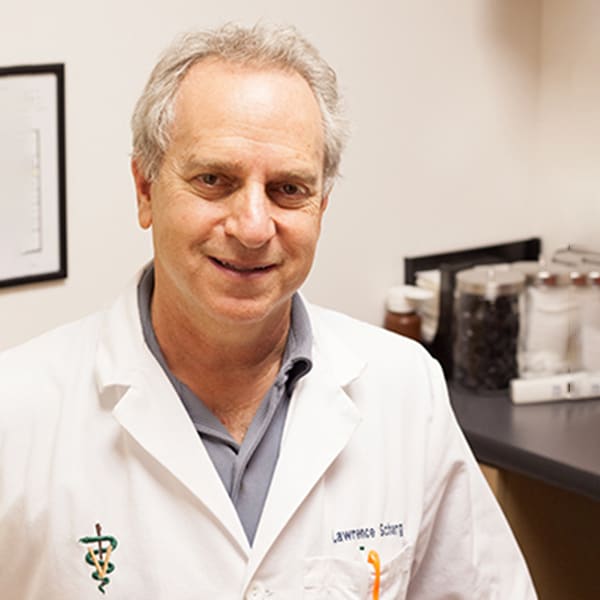 Dr. Lawrence Scharg
Dr. Lawrence Scharg spent his childhood years in the Detroit area. Throughout his childhood, he knew that one day he would fulfill his dream of becoming a veterinarian. He received his Bachelor of Science Degree in Zoology from University of Michigan in 1973. He then transferred to Michigan State University and completed his doctorate degree from Michigan State School of Veterinary Medicine in 1978. After graduation, Dr. Scharg migrated to the San Francisco Bay Area to fulfill his childhood dream of living near San Francisco to enjoy outdoor recreation and the cultural diversity indigenous to this location. Today, Dr. Scharg continues his passion, providing those services that are paramount to the good health of your family pets.
Dr. Scharg has an overwhelming interest in oral surgery, dentistry, oncology, general medicine and preventive care for all ages of dogs and cats. He has been actively involved with continuing education seminars and programs throughout his career including courses in abdominal ultrasound, oral surgery, soft tissue surgery and urgent care medicine. In 2010, he completed a Fellowship in oncology at UC Davis Veterinary Medical Teaching Hospital.
Dr. Scharg has been an active member of the Contra Costa Veterinary Medical Association, and California Veterinary Medical Association since 1984. Dr. Scharg has one son, Ian, who graduated from McGeorge Law School in Sacramento in May 2012.
He shares his home with his beloved Standard Poodle, Annie. When not at the office, Dr. Scharg enjoys his free time road biking, hiking, cooking, gardening, and sailing the San Francisco Bay.